Creating Your Very Own Hot Tub Entertainment Oasis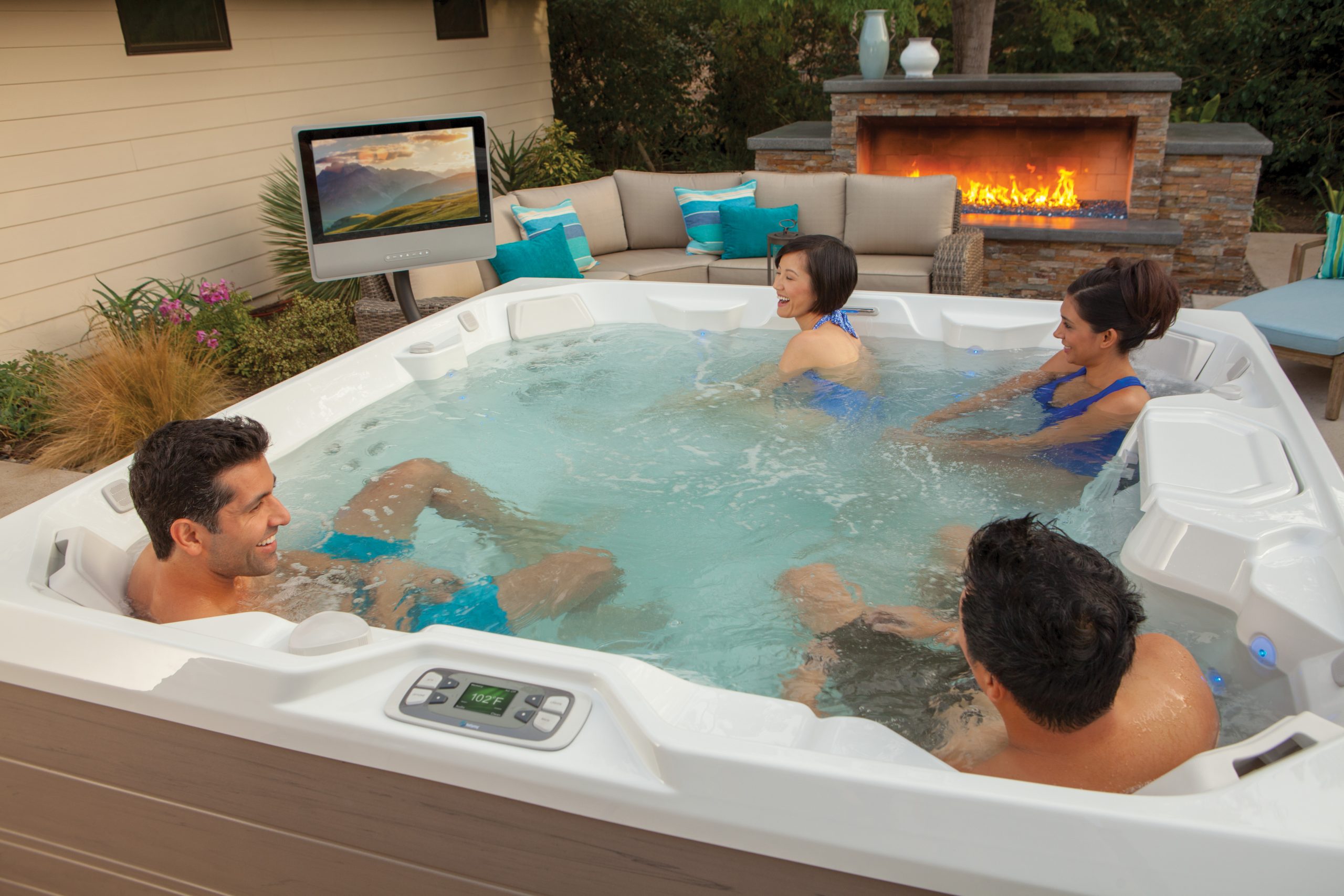 Are you looking for ways to make your hot tub more fun and entertaining? Whether it's a family gathering, a sporting event, a romantic night out, or just some relaxation time – creating your own hot tub entertainment oasis is the way to go! With the right combination of music, lighting, snacks, and drinks, you can turn any ordinary hot tub session into an unforgettable experience. Read on to find out how you can create your very own hot tub entertainment oasis in no time.
Set the mood with music and lighting
Creating a relaxing atmosphere in your hot tub is essential for having an enjoyable and memorable experience. Music and lighting can be key elements to achieving that perfect ambiance that you are looking for whether it is for a solo soak, a social event, or a date night. Playing some music in the background that matches the mood will help create the perfect vibe. While dimmed lights will give off a warm, cozy feeling, party or string lights can create a more lively atmosphere, you're really only limited by your imagination!. So if you want to set the right mood, make sure to add these two components into your hot tub entertainment oasis!
Bring along some snacks or cold drinks
Snacks and drinks are a great way to add some flavor to your hot tub entertainment oasis. Whether you're looking for something sweet, salty or just plain delicious – there's no better way to make your hot tub session even more enjoyable than with the right snacks and cold drinks! From chips and dips, candies and chocolates, to sodas, juices or alcoholic beverages – whatever you choose will surely take your hot tub experience up a notch. Plus, you can even purchase hot tub accessories such as spa caddies or aqua trays that hook onto the edge of the tub to keep your snacks and drink dry, for example. So don't forget to stock up on goodies before jumping into the tub!
Get floating speakers or waterproof Bluetooth devices
One of the best ways to make your hot tub entertainment oasis even more enjoyable is by adding a floating speaker or waterproof Bluetooth device. Floating speakers are especially useful when it comes to pool and hot tub parties, as the sound will travel through the water and reach further distances than it would with a stationary speaker. Not only that, but they also come in a variety of shapes and sizes, so you can easily find one to match your style and aesthetic. With these speakers, you'll be able to listen to your favorite tunes while relaxing in your hot tub! 
Additionally, these devices are designed to resist water damage, so you don't have to worry about them getting ruined if they get wet. If you want to take things up a notch, you can even get waterproof headphones that connect directly to your floating speaker so that you can have private music time with yourself or with someone else. So if you're looking for exciting ways to spice up your hot tub experience – look no further than floating speakers!
Hang string lights around your patio or deck for extra ambiance
Adding some extra ambiance to your hot tub entertainment oasis is a great way to make it even more enjoyable. String lights are the perfect choice for this, as they provide just the right amount of light without being too bright or intrusive. Plus, you can hang them around your patio or deck in various patterns and colors depending on your preference – making it easy to customize the look and feel of your hot tub area. With string lights, you'll be able to create a warm and cozy atmosphere that will be perfect for relaxing with family and friends in the evening hours. 
Put out colorful towels and robes for post-hot tub relaxing experience 
Providing robes and towels in your hot tub entertainment oasis is the perfect way to make your guests feel pampered and relaxed after a nice soak. Not only do they provide comfort, but they also serve as a great aesthetic touch that will give your hot tub area an additional layer of warmth and coziness. When it comes to choosing robes and towels, there is no limit to the variety of colors, materials, sizes, and designs that are available. From lightweight terry cloth to plush velour (and everything in between), you are bound to find the perfect robe or towel set that matches your aesthetic. 
Additionally, you can also opt for fun towel sets with custom embroidery for some added personalization. Having robes and towels on hand means you'll have enough extras to accommodate more than one guest at once – making it easy to host a large group of friends or family members for your next hot tub party. So make sure to add robes and towels into your hot tub entertainment center if you want to give your guests the ultimate luxurious experience!
Project movies onto a wall or screen to create an outdoor movie theater 
Take your hot tub entertainment oasis to the next level by projecting movies right in your backyard! With a laptop, projector, and comfortable seating, you can easily create an outdoor movie theater experience that will be sure to delight all of your guests. All you need is a big blank wall or screen where you can set up the projector and stream any movie or show of your choice. This way, everyone in the hot tub can enjoy watching their favorite films while taking breaks from soaking in the warm water. Plus, this setup also makes it easy for anyone who isn't interested in getting into the hot tub to join in on all of the fun as well – making it perfect for family gatherings or parties with friends. 
So don't wait any longer – start planning out how you'll turn your hot tub area into an outdoor entertainment center today! If you have any questions, we invite you to stop in to our location near you so that our helpful staff can assist you!