Hot Tub Shopping: In-Person or Online – Which is Better for Finding the Best Hot Tub?
Hot Tub Shopping: In-Person or Online - Which is Better for Finding the Best Hot Tub?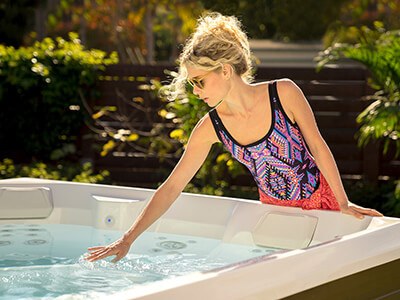 When it comes to buying a hot tub, the decision to shop in-person or online can feel like a toss up. Shopping in-person offers some advantages, like being able to speak with a knowledgeable salesperson and getting a better feel for the product before purchasing. However, shopping online offers convenience and greater selection. Ultimately, the best option depends on your preferences and needs but we think shopping in-person offers more value, especially if you're coming to the hot tub shopping experience as a first time shopper who is looking to learn about what is available and which features are important to you.
Benefits of Shopping In-Person for Hot Tubs
See the different models up close
One of the major advantages of shopping in-person for a hot tub is that you can get a really good feel for the variety of products available and see the product before you commit to purchasing it. You can see it up close, touch it, and sometimes even test out its features before taking it home so that you can avoid buyer's remorse and know that it's exactly what you're looking for. 
Experts are on hand to answer your questions
In-person shopping has a personal touch to it that online shopping just can't provide as you will have an experienced salesperson at your disposal who can answer any questions that you might have about the hot tubs that you are comparing. Having this support will allow you to quickly compare different models, and weigh the pros and cons of each, in order to make an informed decision about which one is best for you. 
Shopping for related products is easy
Additionally, in-person shopping allows you to ask experts questions about related products, such as chemicals or accessories that you will need for hot tub maintenance, that aren't always available online. This benefit is invaluable for a first timer looking to purchase the right products for maintaining and upgrading their hot tub.
Shopping Online for Hot Tubs
Although there are many benefits associated with shopping in-store for a hot tub, it is not necessarily the clear winner as there are a few advantages associated with shopping online. 
Greater Selection Online
When it comes to shopping for your perfect hot tub, there are typically many more options available online as online retailers are able to carry hundreds of different models from dozens of different manufacturers whereas a local mom-and-pop store may only have a few brands to choose from. This variety allows shoppers more options to choose from than if they were simply walking into one store or showroom at a time. 
No Lines or Waiting
When shopping online, customers don't have to worry about scheduling appointments with salespeople or waiting around in long lines – instead they have access to information 24/7 without having to leave their home or office space. A definitive benefit to the shopper who is looking for convenience or who has a busy schedule. 
Which Option Is Better?
At the end of the day it comes down to personal preference – do you prefer speaking directly with knowledgeable salespersons or would rather take advantage of all the conveniences associated with ecommerce? When it comes to online shopping, what you gain in convenience and variety you lose in that personal touch as you will not have the option to work directly with an expert. And that;s not even mentioning some of the great promotions that only happen in local stores! 
Whichever route you decide is ultimately up to you, and you may prefer to do a hybrid option which could include researching online and then finding a local shop that sells the brand you are interested in to browse in person.  If we leave you with one piece of advice to take with you on your way let it be this: just make sure that whatever choice you make fits your individual needs and if you do decide to shop in-person, make sure you stop in to our showroom to get the best service in town!! Have fun shopping!